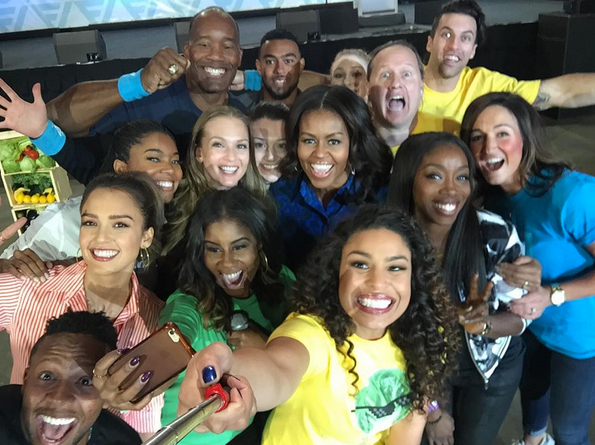 WOW! How cool is that! Not only did I have the an amazing opportunity to team up with #TEAMFNV to promote healthy eating, but I got a chance to take an epic selfie with #TEAMFNV celebs like Jordin Sparks, Jessica Alba, Gabrielle Union, Estelle & First Lady Michelle Obama!
I've been endorsing Fruits & Veggies for months now and I am still in awe at the amazing experience of hosting their very first #FNVLIVE right here in Hampton Roads at Old Dominion University! This was truly a one of a kind celebration of fruits & veggies and FNV's goal is to increase the consumption of fruits & veggies amongst teens and moms–hence the presence of some of the biggest female stars on board & First Lady Michelle Obama!
We kicked off the show with a mini Spartan challenge & music by DJ Mick! Professional sport stars joined in on the fruits and veggies challenges & stunts and won free #TEAMFNV gear for the crowd! Musical artist Ashanti and Estelle performed and of course…the First Lady announced that she is officially joining #TEAM F N V!
Following her remarks at FNV Live!, the First Lady helped kick off the Supermarket Showdown challenge. Jessica Alba and Jordin Sparks each lead a team of celebrities and athletes in answering fruit and veggie related trivia questions and weaving supermarket carts through a cone course to pick up the correct fruit or veggie. In the end, Team Sparks took the win, but both teams came together for an epic selfie, all in support of fruits and veggies
I caught as much as I could while working on my #Snapchat! Peep the video and links below for the recap of this awesomely positive event!
& eat your fruits & veggies 🙂
-Diva
Event Recap Links/Articles:
TheyBF.com: First Lady Michelle Obama, Gabrielle Union, Ashanti, Jordin Sparks & More Celebrate Healthy Eating At FNV Live! http://bit.ly/1MNBkAI
Michelle Obama Talks Fruits and Veggies: http://bit.ly/1leBRo9
The Virginia Pilot: First Lady & Jessica Alba Promote Healthy Eating  http://bit.ly/1NHN8UZ
The Produce News: http://bit.ly/1PZhcjk